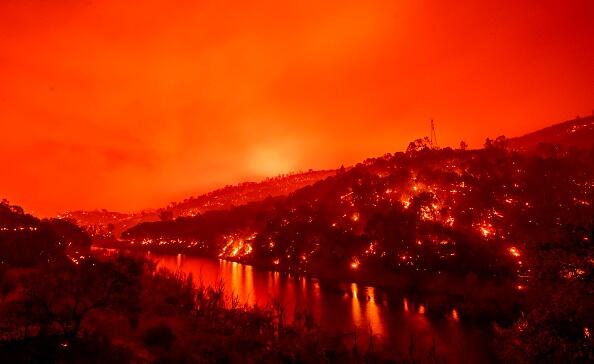 California is under absolute destruction because of fires popping up all over the state. There are no more firefighters. There are no more places for evacuees to flee to.
Santa Rosa, Napa and Sonoma counties are burning down.
Californians are wildfire-weary and are feeling hopeless.
Santa Ana wind events are kicking up more and more fires not to mention the dry fuel which are feeding these fires.
Alex Stone from KFI News just shared that his parent's home in Napa is threatened which caused his parents to flee.
This from USA Today :The National Weather Service issued a red flag warning for most of Northern California through Monday night. A heat wave in the West is combining with dry winds whipping the area, heightening the risk of wildfires this week.
In Sonoma, about 4,500 residents of the Oakmont Village senior living community fled the fast-moving fires – many in nightclothes and robes and gripping canes and walkers –as ash spewed in the sky, theSan Francisco Chronicle reported.
"It was scary, and I didn't expect it to be so close," Doris Tietze, 91, an Oakmont resident, told the Chronicle.
The fire season in California has taken a huge toll. Since the beginning of the year, there have been more than 8,100 wildfires that have burned more than 3.7 million acres throughout the state, according to Cal Fire. Since Aug, 15 – when California's fire activity elevated – 26 people have died, and more than 7,000 structures have been destroyed.
Listen to Alex share details about the intensity of these fires and the panic of evacuees with John & Ken.
Gov. Gavin Newsom, where are you ? Oh yeah, tweeting about Trump and his Supreme Court justice nominee...
pics/getty images