Woolsey Fire Burns 80,000 Acres, Five Percent Contained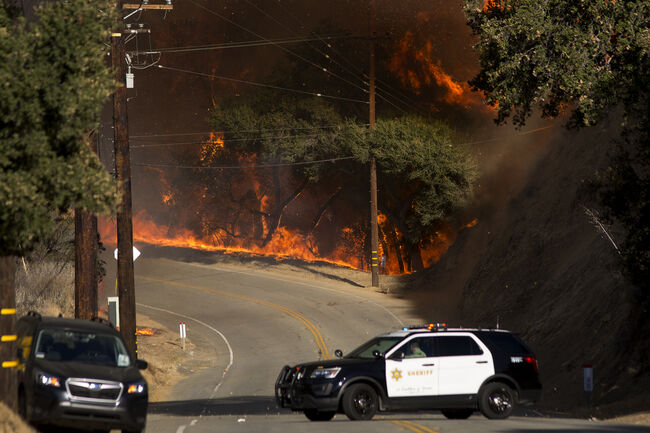 Officials say the devastating Woolsey Fire has charred at least 80,000 acres across the Los Angeles and Ventura county areas, but a brief lull in the Santa Ana winds on Saturday allowed fire crews to gain some ground, with the blaze currently five percent contained.
The nearby Hill Fire has charred more than 4,500 acres and is 25 percent contained as of Saturday morning. The two blazes have destroyed more than 150 homes. The following areas in Ventura County are no longer under a mandatory evacuation order; Camillo Springs, California State University Channel Islands, Dos Vientos, Vallecity Trailer Park.
Evacuation orders have remained in place since they were first issued, affecting some 170,000 residents, and 75,000 homes.
Investigators say they are looking into the circumstances of two fatalities discovered on Mullholland Highway. The Los Angeles County Sheriff's department said the two severely burned bodies were discovered inside a parked car on a long residential driveway in the fire area. Officials did not elaborate further, citing the active investigation.
Officials said when roads have been cleared and deemed safe, they would start a re-population plan to allow individuals who have been displaced by the fire. Residents in areas affected by the fire are being urged to have their identification on hand and ready to show officials to prove they live in the area.
The 101 Freeway is expected to re-open later this evening. The northbound lanes of Pacific Coast Highway is closed at Sunset with southbound lanes open for those still leaving their homes.
At least seven to ten homes have been red-tagged in Agoura Hills where mandatory evacuations remain in place.
Mandatory evacuations also remain in place for the Hidden Hills, Calabasas, Westlake Village and Malibu areas. You can see a map of the evacuated areas below.
The winds died down considerably Saturday, allowing fire crews to work quickly and gain a bit of ground on the #WoolseyFire. However, Ventura County Fire Department Chief Mark Lorenzen cautioned people against becoming complacent.
"Don't be lulled by a false sense of security," said Lorenzen. "Stay vigilant, don't let your guard down."
Another wind event is forecast Sunday with gusts between 30-40 mph lasting through Tuesday.
The Woolsey Fire began Thursday afternoon in Ventura County and spread quickly thanks to strong Santa Ana winds that pushed the fuel-hungry fire toward dry brush that hasn't burned for years. Several multi-million dollar mansions along with mobile homes have been consumed by the fire, Cal Fire said. The fire jumped Pacific Coast Highway about 10 p.m. Friday night as it headed toward Malibu Colony.
Current Road Closures:
Hwy 101 both directions at Valley Circle to Reyes Adobe
Hwy 101 offramps at Camarillo Springs
Hwy 1 southbound (Pacific Coast Hwy) closed at Las Posas Rd.
Bell Canyon Rd. at Valley Circle Blvd.
Borchard at Los Vientos Dr.
Lynn Rd. at Reino Rd.
Potrero Rd. is closed between Rancho Dos Vientos and S. Lewis Rd.
Kanan Rd. Between Westlake Bl. and Lindero Canyon Rd.
Falling Star Ave. at Kanan Rd.
Erbes Rd. at Sapra St.
LA County Shelters:
Taft High School - 5461 Winnetka Ave., Woodland Hills, CA 91364
Pierce College - 6201 Winnetka Ave., Woodland Hills, CA 91371
Palisades High School – 15777 Bowdoin St., Pacific Palisades, CA 90272
Canoga Park High School – 6850 Topanga Canyon, CA 91303
Red Cross shelters accepting animals in animal carriers.
DMH dispatched teams to all four shelters
Pepperdine University- Student are to shelter in place
Ventura County Shelters:
Borchard Community Center - 190 Reino Rd., Newbury Park, CA
Camarillo Community Center - 1605 E. Burnley St., Camarillo, CA
Rancho Santa Susana Rec. Center - 5005 Unit C Los Angeles Ave., Simi Valley, CA
Thousand Oaks Teen Center - 1375 E. Janss Rd., Thousand Oaks
Thousand Oaks High School -
Evacuations
As of 11/10/18 at 2:30pm
Bell Canyon – Entire Community
Oak Park – Entire Community
Thousand Oaks – T.O. Blvd north to Sunset Hills, from Oak Park west to Highway 23
West of Highway 23 – south of E. Olsen Road, north of Pederson Rd.
South of Bard Lake, east of Highway 23
South of Highway 101, east of Reino Rd., north of Potrero Rd., east to the
L.A./Ventura County line
Wood Ranch and Long Canyon
Evacuation Warnings:
Simi Valley – Long Canyon, Bridal Path, Wood Ranch
Evacuation Centers:
Camarillo Community Center –1605 E. Burnley St., Camarillo, CA 93010.Accepting small animals.
Borchard Community Center –190 Reino Rd., Newbury Park, CA 91320.Accepting small animals.
Goebel Senior Adult Center –1385 E. Janss Rd., Thousand Oaks, CA 91362(at capacity)
Thousand Oaks Teen Center –1375 E. Janss Rd., Thousand Oaks, CA 91362(at capacity)
Thousand Oaks Community Center –2525 N. Moorpark Rd., Thousand Oaks, CA 91360(closed)
Rancho Santa Susana Recreation Center –5005 Unit C Los Angeles Ave., Simi Valley, CA 93063No animals accepted
Taft Charter High School –5461 Winnetka Ave., Woodland Hills, CA 91364(at capacity)
Pierce College –7100 El Rancho Dr., Woodland Hills, CA 91371 (Entrance off Desoto Ave.)
Los Angeles County Animal Services Accepting large animals (at capacity)
Animal Shelters
As of 11/10/18 at 2:30pm
*Animals in crates are accepted at all Red Cross shelters EXCEPT Palisades Charter*
Ventura County Fair Grounds – 10 W. Harbor Blvd., Ventura, CA 93001 (at capacity)
Ventura County Animal Services (805) 388-4258
Ventura County Animal Shelter – 600 Aviation Dr, Camarillo, CA 93010
Ventura County Animal Services (805) 388-4258Accepting small animals
Simi Valley Animal Shelter – 670 W Los Angeles Ave, Simi Valley · (805) 388-4341 (Accepting small animals)
Pierce College – 7100 El Rancho Drive Woodland Hills, CA 91371 (Entrance off Desoto Ave.) (at capacity)
Los Angeles County Animal Services
Hansen Dam Equestrian Center – 11127 Orcas Avenue, Lake View Terrace, CA 91342 (at capacity)
Los Angeles County Animal Services
Earl Warren Show Grounds – 3400 Calle Real, Santa Barbara, CA 93105 Check-in at Gate C off of Calle Real Accepting large animals
If you need large animal assistance, please call (805) 388-4258
The National Park Service for the Santa Monica Mountains tweeted that the famed Western Town at Paramount Ranch, where hundreds of TV and movies have been filmed, including HBO's "Westworld" had been burned. Officials said they were unsure to the extent of the damage to the famed movie ranch.
The fire has also prompted the closure of all schools in the Las Virgenes Unified School District in Calabasas, as well as Viewpoint School, Montessori of Calabasas, Montessori of Calabasas Too and Muse School.
Schools in the Conejo Valley School District have also been shut down. It's unclear when those will re-open.
All schools in the Santa Monica, Malibu Unified School District will remain closed until at least Wednesday, the district announced.
Photos: Getty Images, Corbin Carson, Andrew Mollenbeck, Monica Rix, Kris Ankarlo