Eric Garcetti Is Inspired By Pete Buttigieg's Presidential Campaign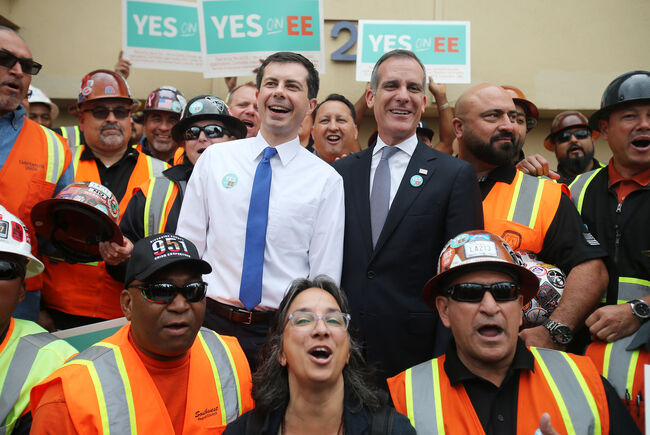 Once upon a time the Mayor of Los Angeles, Eric Garcetti, was get ready to announce his presidential run. Just this time last year, he was in the final stages of announcing his run.
He had a team ready to go in Iowa and he was ready to commit his time between Los Angeles and the campaign trail evenly.
Then Garcetti changed his mind and at the end of January 2019, instead of announcing his run Garcetti held a presser to say he wasn't going to run and was fully dedicated to spending his time in Los Angeles.
Despite not running, this hasn't kept Garcetti from participating in the 2020 race. Just last week he was at a presidential forum in Waterloo, Iowa and yesterday formally announced his endorsement for the Democratic candidate, Joe Biden.
Garcetti admits that former Mayor Pete Buttigieg's unexpected surge in the polls has brought him some sense of inspiration.
"It's nice to have Pete be like my mayoral avatar, to show that the theory was correct and that there is, I think, a hunger for a new, outside-Washington mayoral leadership," he said.
Buttigieg has responded to Garcetti's comments and admitted that during his campaign he's heard multiple Democratic observers say that "Garcetti must be kicking himself".
Do you think this will inspire Garcetti for a 2024 run?
For more information, please read here.
Listen to John and Ken's take on this below:

John and Ken
Listen to John and Ken Weekdays from 2 PM - 6 PM on KFI AM 640!
Read more