Hurricane Dorian Makes Landfall Over Cape Hatteras, NC, as Category 1 Storm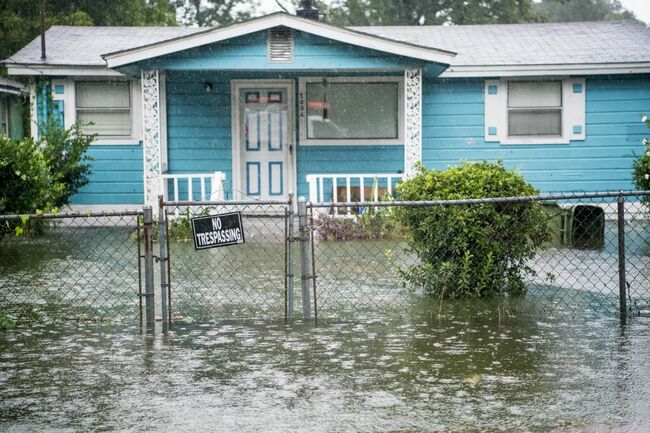 Hurricane Dorian made landfall on Friday over Cape Hatteras, N.C. as the weaker, but still powerful Category 1 storm lashed the low-lying barrier islands. The storm's winds are being blamed for knocking out power to nearly 200,000 customers across North Carolina as the hurricane continues to skirt the East Coast of the United States.
"Dorian should remain a powerful hurricane as it moves near or along the coast of North Carolina during the next several hours," the National Hurricane Center said.
The hurricane has been moving along North Carolina's coast at around 14 mph with maximum sustained winds of 90 mph, the center said. Forecasters said some parts of the region could see heavy rainfall with as much as 15 inches of rain in some areas, making flash floods a concern. Parts of the state between Salter Path and Duck could see up to 7 feet of storm surge, with parts of Virginia seeing up to 4 feet, the center said.
Officials warned residents to take the storm seriously as it approached.
"Get to safety and stay there," North Carolina Gov. Roy Cooper said. "This won't be a brush-by. Whether it comes ashore or not, the eye of the storm will be close enough to cause extensive damage in North Carolina."
Dorian left extensive damage to the Bahamas earlier this week when it made landfall as a Category 5 hurricane, with 185 mph winds reported. At least 30 people are dead after the storm officials in the Bahamas said. That number is expected to go up as search and recovery efforts continue.
At least four deaths in the U.S. have been blamed on Dorian. All them involved men who were killed while preparing for the storm in Florida and North Carolina.
Photo: Getty Images

John and Ken
Listen to John and Ken Weekdays from 2 PM - 6 PM on KFI AM 640!
Read more