Don't believe Jerry Brown's fake crime statistics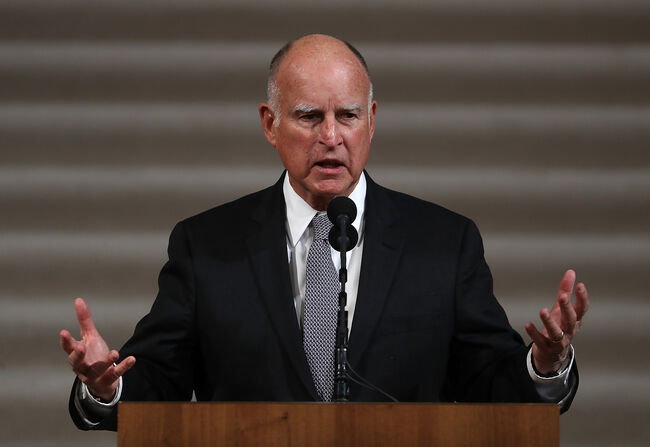 Yesterday, Jerry Brown gave his final State of the State address and spewed a bunch of nonsense about California's crime statistics.
Michael Rushford, President and CEO of the Criminal Justice Legal Foundation, is here to set the record straight:
"In his state of the state address yesterday, Governor Jerry Brown boasted that last year the number of reported felonies was actually lower than in 1970.

He must of forgotten that in 2014, Proposition 47, which he supported, converted all theft, fraud, and receiving stolen property felonies of less than $950 and most drug possession crimes to misdemeanors. That's thousands crimes per year that are no longer felonies. Of course reported felonies are down.

What he did not tell us is that, under his inmate release and rehabilitation policies violent crime in California has increased for three years in a row. This is the first time that has happened since 1992. This includes murder, robbery, rape and aggravated assault. Auto thefts have gone up for eight straight years. And the millions in promised savings of state prison costs by leaving criminals in the counties never happened. Since 2011, when the Governor signed AB 109, his first big sentencing reform, state prison costs have climbed by $1.7 billion, according to the Governor's own budget office.

What's worse, the just released preliminary numbers for big California cities over the first six months of 2017 show another increase in violent crime in 56% of the state's 73 largest cities. This is very similar to increases reported for the first six months of 2016.

Governor....we are heading in the wrong direction and now is not a time to be bragging about your success at reducing crime. The tens of thousands of Californians who have been attacked, robbed and murdered by repeat criminals your policies have left in communities for rehabilitation do not think climate change is the state's most serious problem. Most Californians are just struggling to keep themselves and their families safe in the toxic criminal environment you have created."

John and Ken
Listen to John and Ken Weekdays from 2 PM - 6 PM on KFI AM 640!
Read more