Islamic State Kills 118 Nigerians, 153 Missing
Boko Haram's Isalmic State flag (Getty Images)
Despite the massive degradation of the Islamic State in Syria and Iraq, its most prominent African affiliate Boko Haram has had no issues picking up the slack.
This week saw large-scale operations undertaken by the Nigerian-based terrorist organization (also known as the Islamic State of the West African Province, or "ISWAP") in both Libya and Nigeria. The attack in Libya claimed the lives of at least 9 security service members and resulted in 11 civilians being kidnapped.
The attack in Nigeria led to a battle which claimed the lives of at least 118 soldiers. A source inside the Nigerian Army has also reported 153 people missing. Islamic State representatives also announced operations this week in Chad, making their recent incursions a triple-pronged, 3-country campaign.
Boko Haram is one of the most violent and deadliest terrorist groups in the world. Despite being the unofficial kings of terror, they actually humbled themselves and swore allegiance to ISIS back in 2015 while the latter organization was on the up-and-up. In 2018, we can see what fate held for ISIS, with Boko Haram running strong.
This has more-or-less always been the case, though the majority of Western media outlets have always favored Middle Eastern terrorism. While ISIS was spending their days murdering and kidnapping dozens, Boko Haram was slaughtering entire villages of hundreds.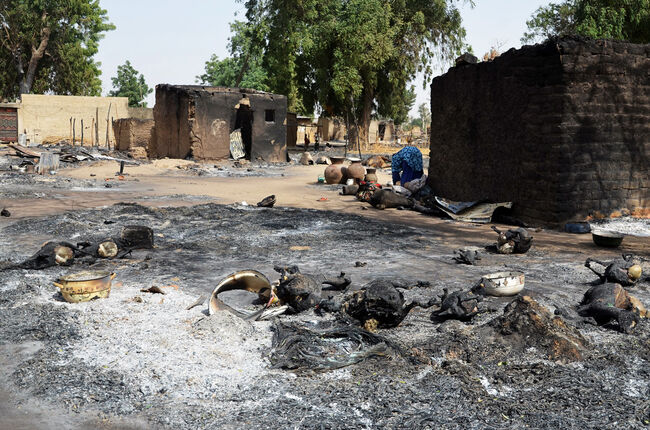 Remnants of a village scorched by Boko Haram (Getty Images)
ISWAP is notorious for their kidnapping of 276 schoolgirls in 2014, which led to an international campaign involving world leaders pleading to have the girls returned. Even though more than 100 of them were eventually sent back home in March of 2018, there are still more than 100 of them in terrorist hands.
While ISIS proper are struggling to keep any kind of foothold in the Middle East, Boko Haram (in the name of the Islamic State) is running just as strong as ever, and show no signs of slowing. Just today it was reported that they had kidnapped 18 girls in the village of Blaharde in Niger.

Dark Secret Place
Listen to Dark Secret Place every Saturday from 10PM - Midnight on KFI AM 640!
Read more