Sentencing for Ex-Trump National Security Adviser Michael Flynn Delayed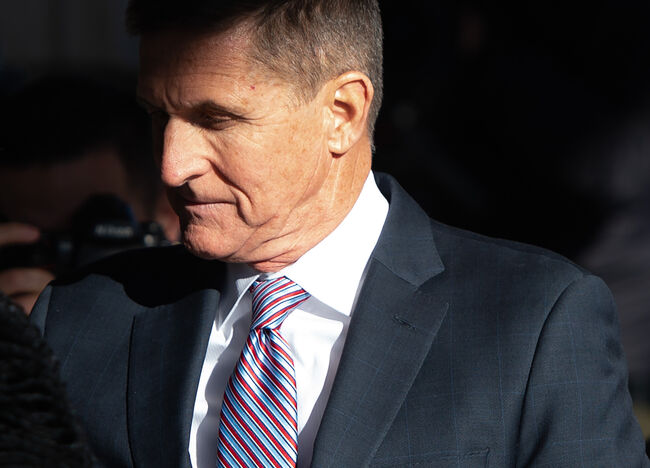 A federal judge delayed sentencing for National Security Adviser Michael Flynn after formally accepting his guilty plea for lying to the FBI about conversations he had with Russia's ambassador at a U.S. District Court in Washington D.C. Friday morning.
Judge Emmet Sullivan formerly accepted Flynn's guilty plea after he spent several minutes reviewing Flynn's statements and his intentions at the hearing on Friday. Sentencing for Flynn will be delayed with both sides updating the judge on the case in March.
Prosecutors said they had no problems delaying the sentencing.
It was also revealed today that Flynn has cooperated extensively with special counsel Robert Mueller's investigation into Russian interference into the 2016 election and with at least one other Justice Department probe.
Mueller's office recommended that Flynn receive no jail time, given that he's accepted responsibility for his actions and has cooperated with investigators in their investigations.
Flynn pleaded guilty last year for lying to the FBI about the substance of his conversations with former Russian ambassador Sergey Kislyak while he was working for the presidential transition team. Flynn initially denied that they had discussed sanctions and a United Nations Security Council issue during the presidential transition, but later admitted to lying.
Flynn resigned from his position as National Security Adviser to President Donald Trump just weeks into the new administration's term.
The White house said Friday morning that nothing about the plea or charged implicates anyone other than Flynn.
"The conclusion of this phase of the special counsel's work demonstrates again that the special counsel is moving with all deliberate speed and clears the way for a prompt and reasonable conclusion," Ty Cobb, a White House lawyer, said in a statement.
Photo: Getty Images