Ice Bucket Challenge Gets Presidential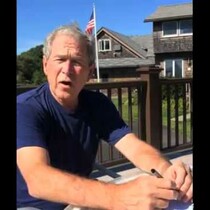 Posted August 20th, 2014 @ 5:37pm
(NEWSER) – The Ice Bucket Challenge is now claiming former heads of state as victims. But former President George W. Bush didn't really want to have a bucket of ice water dumped on his head.

"I do not think it's presidential," he says in a video posted today on Facebook.

He opts instead to write a check, but Laura Bush had other plans. She sneakily arrives on camera with a bucket in hand, and … well, you can guess what happens next...
More News:

NFL asks musicians for money to play Super Bowl

Appeals court upholds panhandling ban at LAX

Study finds most Americans use only half of their vacation days